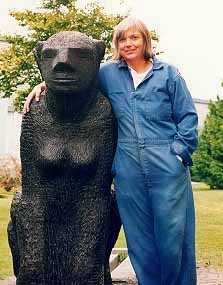 Known professionally as Joan Miriam Adams, my work includes those in private and public collections, throughout Canada and the United States. Public collections are held by External Affairs Canada, The City of Surrey, and The City of White Rock, among others. I'm available for both individual and group art instruction, with a specialty in teaching to children.
Artistically, I work within the framework of a very personal mythology, reinterpreting classic mythic images, which are simultaneously personal and universal and have a dream-like quality. I then reshape these images into an artistic reaction to the human condition. Quality of idea, form and craftsmanship are essential components in expressing this vision and only by working with an array of different materials, including stone, wood, clay, metal and paint, am I able to give them concrete form. Throughout my work I visualize the forming piece's position in space and the ability of positive and negative space to generate movement and affect emotional impact.
Currently I am engaged in creating a body of  sculptural works, including an 11 foot limestone sculpture entitled Singing Mermaids, and various other smaller wood and stone sculptures. I am also working on a series of paintings and an accompanying book about my experience of being the primary caretaker for my mother who passed away in 2015 at age 100. The emerging story takes on a surreal and somewhat Dargeresque quality, in that it relates this experience from the perspective of a young girl, caring for a very elderly grandmother that is known to speak to  imaginary crocodiles and elephants.
"The artist's virtuosity is manifest in the sensurous anthropomorphic forms which she creates from an amazingly wide range of materials and in sizes ranging from large commissions to pieces which fit in the palm of your hand."